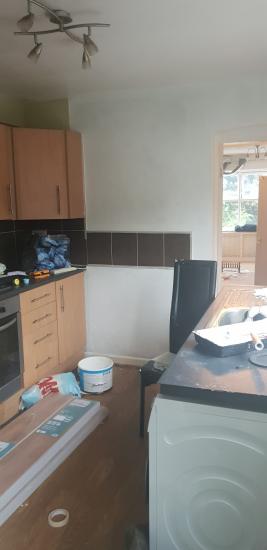 Will it ever end?! 😫 Why the hell does EVERYONE have green kitchens? My mum, our current house, the new house. I would also like to know why she tiled a random part of the wall, it looks ridiculous 🤔 Excuse the absolute chaos everywhere!!
Open in the app
You will be able to see all photos, comment and read other posts in the Mom.life app
Open this post
in the Mom.life app
Open
Comments
— Who the hell does that 😂 "oh I've got 4 left over - I know il put them there" 😂🤦🏻‍♀️
— It's actually bugging the fuck out of me! It'll be getting retiled in white metro tiles in time but for now sticking to basics as all the walls will be getting ripped down in the next few months for damp treatment on the bricks 😫
— @jo.wilcox, omg that sounds like pure stress! All be worth it in the end !
— @erincharlieconor i sure hope so, it's starting to feel like it will never end 😫
— I messaged you on Facebook ya bint 😘 xoxo
— It got lost by the 794949595 marketplace messages 😂
— Looks like there could have been a breakfast bar there or another worktop x
— Possibly, that doed make sense! Which is ironic since i already thought about putting a breakfast bar in that exact spot haha x
— @jo.wilcox, hate green paint 😫 can't beat white walls x
— When I moved into my flat the kitchen was bright blue and like a chocolate brown with green tiles?!?!? It was so hard to paint over😭 The couple had actually painted the white tiles green🤦🏻‍♀️ I had to scrape it all off😭
— What the hell?! That sounds absoloutely awful 😂 i bet it was right pain staking scraping it all off too 😫 i hate these tiles but at least they're not the worst and they'll be gone once all the works done!
— @jo.wilcox, It was horrid😩 How does that look good to somebody🤷🏻‍♀️ I was so close to saying nope give my old keys back I'm not doing this😂 Took weeks to get it off completely😒
— Ours was green to, more like an emerald green though. Our kitchen is only small as well. It was awful! We've got part ofo ur chimney breast in ours, and the bare bricks were painted. I wanted to cry looking at it. We've ended up having to paper over it because we just couldn't get the paint off. Who the hell paints over bare brick?! 😩
— Ours is a light green with white units. Hate it! The whole kitchen needs ripping out and starting over again but landlord won't do it whilst we're in the property.