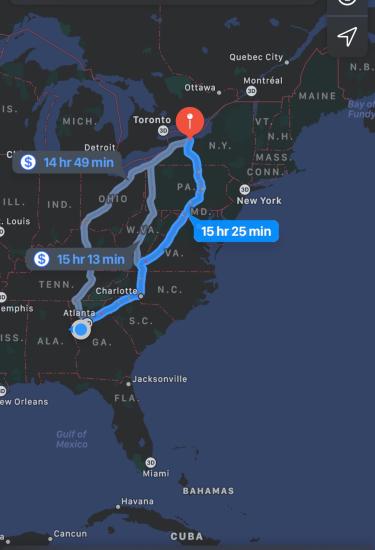 It don't look that bad when you're just looking at the states you have to drive through until you look at the time it'll take to get there 😭 at least I'll be sleeping most of the drive lol! Only a few more days & im back in my home town, I miss my family so freakin much!!!
Open in the app
You will be able to see all photos, comment and read other posts in the Mom.life app
Open this post
in the Mom.life app
Open
Comments
— You're in. Atlanta 😅
— @dope.ass.mom I'm like 💯 sure we cut through Newman when driving lol. He's actually wanting to move back down there but IDK. I'd miss my family alot but he misses his mom and brother and sisters
— @nerdymommyplus2, I feel you! But I can't complain about GA it's a nice state to live in.
— @dope.ass.mom, Newnan is such a pretty town! We drive through there on the way to Carrollton. My husbands brother lives there.
— Come home where the weather has been nice, and all the leaves are changing, and pumpkins and cider are everywhere 🤣🤣💞💞
— Ugh I know I'm not going to want to leave 😩
— I'm in Georgia too. My husband wants to make that drive for a vacation.