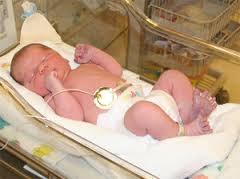 My baby boy made it a little early but is still a very big boy!! Jaydon Lamar Smith 8 lbs 9oz
Open in the app
You will be able to see all photos, comment and read other posts in the Mom.life app
Open this post
in the Mom.life app
Open
Comments
— Congrats!
— I think they had your dates wrong girl. He's a big boy.
— @junebaby, I believe they did cause he is too big to be 8weeks early. And Thanks.
— yes he's way too big for 8 weeks early. He's super cute!
— Thank You. It took me 15 hours of labor and 10 minutes of pushing!
— You did awesome!
— It took a lot out of me!
— @jaydensmommy1, you got me scared now Lol he was ready fr any longer he probably would have been ten pounds Lol
— @mariahappy, Lol I'm Sorry! He was about there. I'm just glad he is healthy.
— yes. he's too cute... congrats girly.
— Thank You!
— omggg he is so cute 😍 look at them cheeks !
— He is a big boy! Thanks!
— omg 8 weeks early and he was 8 pounds can u image if u carried full term lol. he's adorable Look at thoose cheeks. congratulations mama
— so cute congratz:)
— Thanks guys