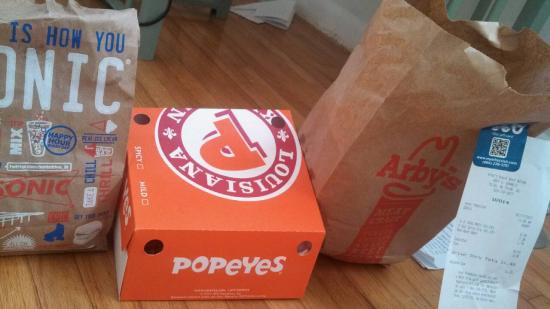 I can't make this up! Lol... I said I wanted it all....he was serious...I only kinda was.
Open in the app
You will be able to see all photos, comment and read other posts in the Mom.life app
Open this post
in the Mom.life app
Open
Comments
— your so lucky your man does that... evty time my boyfriend asks me what inwanna eat he says no to everything so I just say fuck it I don't want anything.
— kudos to hubby!
— It's so weird bc I'll cook before I eat someone elses food. But now omgahhh I love fast food...it's like I never had it before.. @18andpregnant
— Yes kudos to him...I'll keep my hormones in special order today...TODAY... LOL @beautifulsbby830
— brownie points to your hubby 😃😊
— I must say...pretty good job and everything was hot girl...idk how he managed.. @seleneromanortiz12
— He desrves an award. 👏👏👏 Popeyes though 😍
— I got an award for him alright...bahahaha @jellybeansmommie
— Yaaaassss homey 😂😂😂
— I want the popeyes chicken, lol
— It's definitely some left....come on through boo @junebaby
— if only I wasn't so far. I told hubby to please bring me some spicy chicken and a root beer and he is after work:)
— Omg he was serious lol my bf would always pick for me lol
— He walks in like the bags don't have food in them...I said my nose is on 100, whatever... He's like those are food incense...ctfu @krissy81814
— lmao! he must of been like, this should do it! 😂
— omg sonic
— Lmbo he is the MVp 🏆🏆