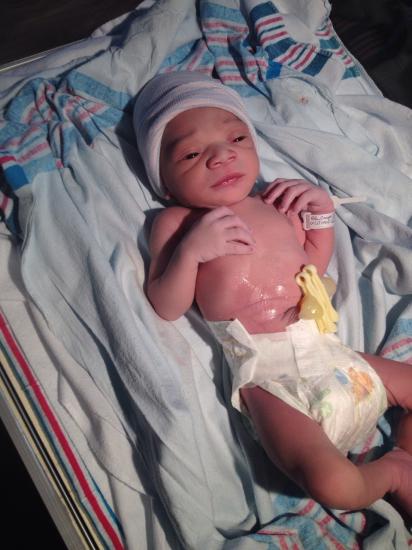 5lb 10 ounces ,19in and a quarter ,chance christian Lee ,❤️😘☺️
Open in the app
You will be able to see all photos, comment and read other posts in the Mom.life app
Open this post
in the Mom.life app
Open
Comments
— OMG congrats his adorable
— He is so cute!!
— I love his facial expression! adorable!!
— aww he's so wittle 💙😊
— he stylin on em! lol what a cutie
— So tiny and adorable, Congrats ❤
— Thank you ladies
— congrats boo. too cute
— @mom2be96,
— Thanks
— yayyyyyy!!! ima have my baby on friday
— he is just too handsome 😍😍
— Aww he's so adorable 😍
— Congrats @mom2be96 !!!, thanks ladies
— he is so handsome !!! congrats
— Thanks
— he's so cute congratulations
— Thank you so much
— how cute!!! hes so little!
— congrats..!!
— at how many weeks were you induced ?
— 38 @yazdahboss
— oh okay. I wonder if I will b induced because my amniotic fluid was low. I just noticed we both have a Lee baby lol
— OMG congrats!!😻😻😻
— 😊 awe lee's,and that was a reason,he was low on fluid
— And thanks
— @maddyt22, @yazdahboss
— that's why they induced you? And yes my boyfriend pick out his name and I fell in love with it
— That was one of the reasons I got induced ,1.the fluid was low(which is the only reason u need) 2.he was in the low birth rate
— @yazdahboss,
— how low were your fluids ? they told me mines were 8.0 and it had to b above 10/20
— He's so handsome 😍
— He looks like his dad awwww 😍😍😍
— I knoww ☺️☺️☺️@krissy81814
— i had no idea u had him already! how many weeks were u?
— I was 38 weeks and 2days ,he'll be a month tomorrow
— @missj_stephens,
— i hope i have him no later than 38 weeks but i got a while. im barely 23 weeks
— The weeks went by fast until I got to 36weeks @missj_stephens
— ive been having round ligament and back pain and my tummy feels heavy. so i feel like its going by so slow. well did u at least enjoy your pregnancy? or was it hell?
— Girl it was hell and then some more ,but my labor was easy @missj_stephens
— im glad u had an easy labor. did u get the epidural?
— YESS ! That's when it got easy,before that I was freaking out a little lol @missj_stephens
— oh my gosh! im so scared cuz i have baaad anxiety. plus i shallow breathe when im in pain i need an epidural! but im hearing u cant get one if u have scoliosis? idk if i have that but my spine does curve
— I'm not sure ,but I think it was bad for me not having it at first because I don't do good with pain,I'm a little dramatic @missj_stephens
— i can be too. well i dnt wanna call it dramatic cuz i really do have bad anxiety was diagnosed 5 years ago. but girl labor aint nothing dramatic about that! id say u did great cuz i would be 10x worse! i cant deal with pain for more than 10 mins.
— Me either hun