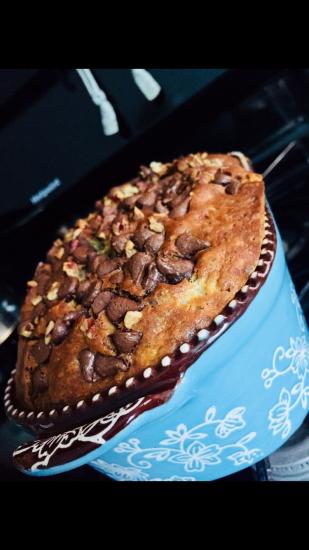 I did it🤪
Chocolate chip banana bread. @bunsinmyoven,
At 7am today lol
Open in the app
You will be able to see all photos, comment and read other posts in the Mom.life app
Open this post
in the Mom.life app
Open
Comments
— Imma need you to take this down Before we all be making this today lol This look 😍😍😍😍😍 lol
— Looks delicious! 😋
— Yummy 😋 I bet your house smelled good this morning
— Like a coffee shop. 😍
— @icebergahead, mmm 😍
—
— I have that same bakeware!
— Omg this looks delicious 🤤🤤🤤and I want some now lol
— Beautiful! I need this recipe and the pumpkin bread recipe please 😘😘😘
— Ingredients 4 ripe Bananas 1 cup Sugar 2 Eggs beaten 1 tsp Vanilla ½ c. vegetable oil 2 c. flour 1 tsp. baking soda ½ tsp. salt Instructions Preheat oven to 350. Grease inside of a loaf pan with shortening. In a large bowl, mash bananas. Beat eggs and add to bowl. Add sugar and oil and mixing well. Whisk together dry ingredients and add to banana mixture. Mix well and pour into prepared pan. Bake 50-60 minutes or until toothpick inserted in center comes out clean. This is my banana bread recipe, I added half of a cup of chocolate chips and used only 3 bananas. Then sprinkled chopped walnuts on too.
— @icebergahead, oh haha I have this pinned. Was it really good spice wise??
— @bunsinmyoven, yes it is. I love it. If I do not have cloves I just use nutmeg.
— Beautiful 😍