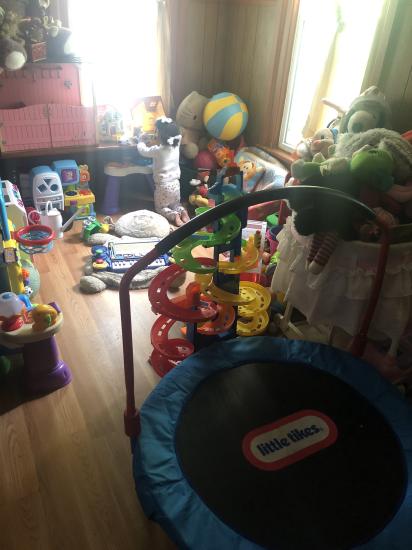 After cleaning her play area for what seems to be the 10000th time I'm starting to think just maybe she does have too many toys 😂
Open in the app
You will be able to see all photos, comment and read other posts in the Mom.life app
Open this post
in the Mom.life app
Open
Comments
— Yes she truly has a lot.. but if she play with it or most of it then I guess it's cool. U could all ways donate some as she get older.
— She actually had more but I donated them to a women's center
— Girl yes lol. Maybe it's time to make some space and get rid of some if you notice there are some she won't touch much.
— @earthymama, I think she needs a toys box too
— @momof5brats, yup maybe you'll find some stuff on sale from the back to college section at bed bath and beyond or target.
— @earthymama, I can't wait to move so she gets a big play room instead of a play area. Plus I'm getting her one more toy for her birthday next month and that's it
— We have so many of the same toys for our kids lol. I need to get rid of stuff too. But every time i start they play with the stuff in trying to get rid of so it never happens lol.
— @catfish2220, oh no that sucks
— @momof5brats I was so sad. We Had a bunch from the baby shower that had letters from my family on the front page that are all gone now. I cried for days lol.
— @catfish2220, I'm sorry to hear and I know how you feel I lost a book that I had from when my older son was a baby but it got wet when my parents basement flooded
— Looks like you need to purge and donate lol.
— I just got her some new things because I donated..... I'm so backwards lol my name is Lydia and I have a problem with buying toys for my daughter
— Well that's good. She has a lot of the toys my 4 kids got over the years. Definitely could have a day care.
— I am going to open a home daycare again
— That's smart I wish I had the space for it I definitely would. I worked in child care for over 15 years.