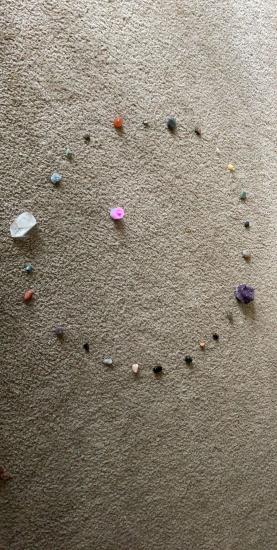 Tonight will be a night to recharge my crystals and stones and to spiritually cleanse myself😌 anyone car to join my circle of cleansing ?
Let's meditate together.
Some of you can benefit from it. Lol
Open in the app
You will be able to see all photos, comment and read other posts in the Mom.life app
Open this post
in the Mom.life app
Open
Comments
— Charging some of my crystals tonight as well 😄 perfect night for a self cleanse and charge as well
— I'm charging my whole self if it doesn't rain lol
— I'm charging the babies and making some moon water that I will probably cut short and use in a bath.
— I use rose water 💦 😁
— I really want to learn about crystals and all of that very interesting stuff!!
— What's your birth month? Find what crystals and stones fall in your birth month and try going from there.
— Google can be a pretty awesome source, but when looking into crystals I encourage looking at the geological side as well. This will keep you a little safe when it comes to some crystals not being safe for certain uses 😊 There are some pretty awesome websites and even PDFs out there. If you live anywhere with mineral societies you should see if they are hosting any shows. Sometimes the best deals are there when it comes to shopping, but metaphysical shops can be great places go shop and even learn from
— @fakoffyeh, I have a few books. From crystal healing to chakras. She can always start off with a Beginners book.
— Love this!
— Yay!!! I have mine ready!
— I'm prepare to charge mine tonight as well, I have a moonstone I have to my man for protection, gonna have to charge that too. Any advice on moon water? I'm interested in trying it out ☺️
— My moonstone 🙌🏼
— Thank you for the reminder.... My labradorite and I have been putting in some hard work, She shall be recharged.