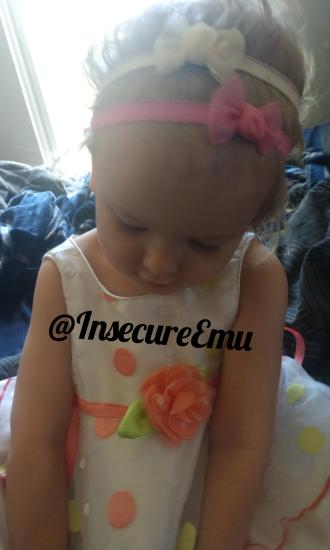 Henry decided today that he would like to be a princess. 😂 He found the bows first and put them on and then saw the dress hanging in the closet and wouldn't leave me alone until I let him put it on. It's 12 months sized but it's not buttoned in the back or anything. He's only responding to princess Henry now. He's also demanding a tea party with princess mommy and queen Violet. (Not sure why he decided the baby is the queen here, but I'm not asking lol)

PS. If you don't like this and think I'm "ruining" my son by letting him wear a dress and some bows that he WANTED to put on, you can keep scrolling. It's all in innocent fun and he's having a blast. I'm not going to say no just because he's a boy. We don't play that way in this house. If he wants to wear a dress and paint his nails, etc, hes got my support to do so. 🤷 It's just innocent pretend play at this point.
Open in the app
You will be able to see all photos, comment and read other posts in the Mom.life app
Open this post
in the Mom.life app
Open
Comments
— My one year old wanted his toenails painted because his sister got hers done, Daddy painted them 🤷🏼‍♀️ Oh well. That's adorable by the way 😍
— My son used to love having his toenails painted. So much fun! 🥰🥰
— @scruffy.nerf.herder Yes! He loves it and when people ask I'm like so? 🤷🏼‍♀️ Let him be a kid he's happy so I'm happy.
— Lol he ISSSSSS adorable lol
— I love this, looks like he's having a blast. My son lets me do his hair sometimes because he sees me do mine. Also has an interest in my makeup when he sees it out.
— Mine always wants me to put blush on him lol. He wants me to make him "pretty" I told him he already was and he went "I know." 😂
— Hey let him express himself...and if he do growup n like to do those things so what... he's beautiful 😘
— Exactly how I feel about it! Some people think it's child abuse though. 🙄 Never understood how letting your child express themselves was abuse, but some people are insane about gender roles and expectations.
— He's adorable and I love that he made the baby the queen too!