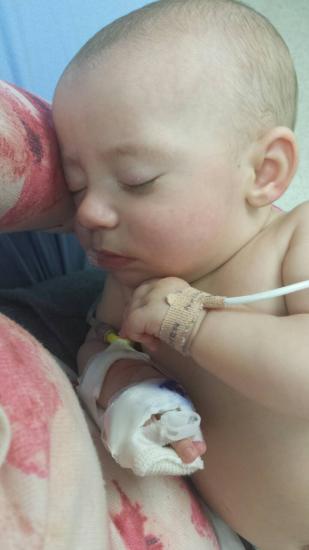 so for all you mommies having babies due in the cold winter months (depending where you live) please take strong precautions in who you allow to be around your baby or touch or hold your little one. my little girl just got admitted into the hospital today with rsv which can be detrimental for infants 6 months and younger. she is miserable and I wouldn't wish this or any other illness upon anyone else or anyone else's children :(
Open in the app
You will be able to see all photos, comment and read other posts in the Mom.life app
Open this post
in the Mom.life app
Open
Comments
— I'm srry. Is she okay?
— Prayers for you little one ❤❤❤❤
— praying for yall. My niece had that at a young age. It will be okay mommy at least she is being takin care of:) be strong!
— Prayed!! 😘
— yes she is getting better. she had a fever of 103 for 2/3 days which I have been keeping down with Infant Tylenol, a congested cough and nose as well, there is a little mucus in her right lung as well. she is currently on iv fluids seeing as she felt so crappy that she wouldn't eat or drink for 2 days. also I brought her to the er 2 days ago and they sent her home and told me nothing was wrong. >.> boy was I mad when I brought her back today. they had to draw blood and do X-ray's to check for pneumonia. it was not a fun day for her. since it is a virus, it can't be treated with. medicine so she will have to stay here until she is at least drinking her bottles and everything. if she can't do that then she might have to stay here until she is better :(
— also she had to do some nebulizor treatments as her oxygen intake was low due to the rsv causing bronchialitis
— thank you everyone<3
— Praying for her
— its not just cold weather because my nephew had it a month ago and we are in a warm part of CA
— @brie127, did ur ob tell u that every one around u and baby after delivery should also have an up to date tdap vaccine because grown ups are actually passing on whooping cough to kids
— comment was deleted
— @jstrong12712, I'm sorry to hear that :( is he okay now? how fast did he over come it? and yes, I know it's not just the cold weather.
— @mrssabby, yes I am aware. no one really goes around my children accept for family which I know all have their shots. my neighbor lives upstairs and their kids and nieces and nephews are constantly passing my doorway and touching things when they are sick, also I made the mistake of going up to hang out one day when I was stressed and needed another adult to socialize with and she was watching her niece because she was home sick from school. they thought she had the common cold and it turned out otherwise.
— @brie127, awww well I hope she gets better soon, praying for u all
— thank you<3 @mrssabby