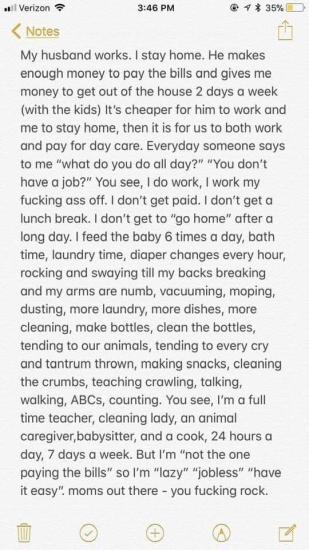 Us mommas are amazing. Don't let anyone tell you different.
Open in the app
You will be able to see all photos, comment and read other posts in the Mom.life app
Open this post
in the Mom.life app
Open
Comments
— I've been a sahm for the last 8 yrs
— I've been staying home for almost 7 years and only us mom's understand. We had a disagreement about him understanding how it feels when I do it 25/8 and he swears he understands but I don't think he does.
— My husband tried doing what I do 24 /7 for an hour and he was freaking out. I told him to imagine doing it every minute of everyday and he says idk how you do it.
— @mommyof.3 they don't know how it gets done but it gets done. We could be tired af falling asleep and still get it done. Working on lil to no sleep and still take care of the kids. Hubby needs 6-8 before he can function. 🙄🙄
— I've been a sahm for 11 years. My schedule is so full every day. I literally have no time most days. My husband once mocked me when our older girls were toddlers because I didn't get some things done.... guess who got stuck learning a lesson😂 we were very petty at the beginning of our marriage. He realized how much I do and has been very thankful for me ever since as well as understanding and offers to help.
— I love this!!!! So fucking true