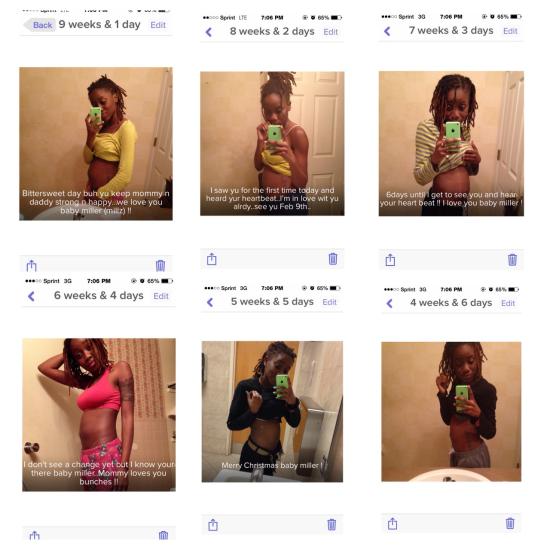 I'm getting there I guess..I notice my boobs are huge buh my belly jus seems like all bloat lol..I want my baby bump !! Lol
Open in the app
You will be able to see all photos, comment and read other posts in the Mom.life app
Open this post
in the Mom.life app
Open
Comments
— Well, You're only 9 weeks. Be patient. I hated knowing I was pregnant and now having a bump, now that I'm bigger and have one, I'm so inlove with it and don't want it to disappear. I was tiny like you, and this is my first. I didn't have anything more then bloat until about 18 weeks.
— knowing i was pregnant and not having a bump*
— Yea U Will Not See Anything Until 3/4Months Or More....
— @rachelmariecroxton, yeah I've been told since I'm so small I won't see nothing until I'm about closer to my due date(thts so sad to me lol) I'm rushing my bump..I love rubbing other mommies belly and feeling the kicks so I know I'll be deeply and madly in love with mine..this my first too..
— @dlondra2015, I know but thts such a long time in my mind lol
— Well, the bump is amazing, but it does get annoying sometimes. Like when You're trying to ''trim or shave'', or when You're trying to find clothes to wear to go out with your family to a fancy restaurant, and You're so used to having everything being too big, now it's too small. When you go to move, and realize Oh, there's a belly there. lmao but it's amazing. <3
— Be Patient I'm Tellinh Cause Girl Its Gonna Sneak Up And U Gonna WISH That Stomach Was That Mini Again Until The Months Are Over. Lol #37Weeks Btw And Im A WHALE At The Tummy Lol . Be Glad To See Ur FEET Lol. @amg2469
— @rachelmariecroxton, lol the joys of being pregnant..I'll be happy to experience it all..and the struggles of being pregnant lol it's all worth it in the end
— @dlondra2015, 😂😂😂 I'm patient but in my head I'm rushing it lol...lol I think I'm going to be big towards the end and I barely look at my feet now unless they are done and looking pretty I keep socks on half the day so I won't be missing those
— Lmao Ijs But Yes. Its Coming @am
— @amg2469,