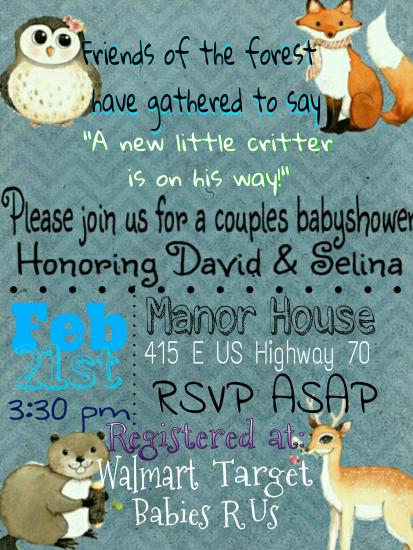 What do u ladies think? I made this using Picsart 😩😧 It took me an hour haha
Open in the app
You will be able to see all photos, comment and read other posts in the Mom.life app
Open this post
in the Mom.life app
Open
Comments
— I love it! You did good.
— @junebaby, Thanks girl!:)))
— its cute! :) ♡ @sinabear
— Love it
— @josewuvbabywuv, Thanks love!:) ❤❤❤❤❤❤
— @regelbaby, Thank you!!!:) ❤❤❤
— I like that u put "RSVP ASAP." I didn't put a date when ppl shud RSVP by and I got a lot of very late rsvps. Which is fine but I needed some accurate ish numbers so I knew how much food to get.
— @regelbaby, yeah same here! i need to know how many people wanna come :/ i dont have any friends here....ehhh... :(
— Did u move from ur hometown?
— @regelbaby, Im actually in my hometown. You see i moved when i was around 12. Moved to Colorado & been there most my life...since last August. & i havent made any friends. its a small town & everyone wants to party nowadays
— Well I've always said you only need at least 1 friend. I have a small group of friends but they are the truest most genuine friends a girl could ask for!
— My baby shower is Feb 21st, too!! Yayy!
— @regelbaby, true true:)!
— @courtbangel_xoxo, yay!!! thats awesome! :)