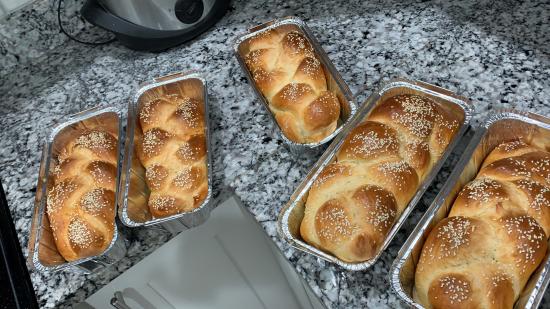 My bread is ready 🥰
Open in the app
You will be able to see all photos, comment and read other posts in the Mom.life app
Open this post
in the Mom.life app
Open
Comments
— That looks yummy
— It is !
— @itsamemario, you can send some my way lol
— @supermomof4, I'll send one over !
— You gonna share?
— Depends - are u bringing wine
— @itsamemario, I'll give you all the wine you want cause I don't drink. 😂
— @scream.queen, lmao yas girl
— Yum!
— I want a loaf
— Yummy!!! I want one lol ship it right over
— I got you
— I have a bottle of unopened wine and need a girls night. 😂😓
— 😍 that looks amazing! Teach me!
— Girl - google it ! My husband talked me through it he's the baker lmao
— @itsamemario, you did a really good job!! What a great teacher. I tried my hand at pizza and semi failed ( I didn't let the dough rise enough) but you have given me courage to try again! Lol
— @liveforyou.hope., practice makes perfect ! Keep trying !
— I will be over in 3hrs 🤣
— Challah? Sorry if I spelled it wrong
— Yes !