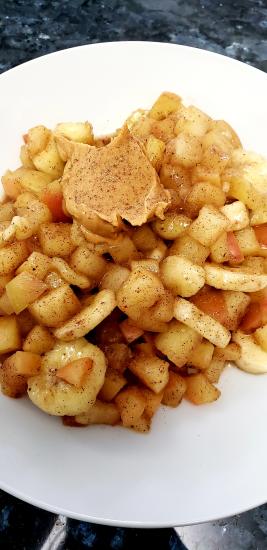 Warm apples and banana with nutmeg, cinnamon and honey all simmered in almond milk with a spoonful of peanut butter on top. A nice fall breakfast!
Open in the app
You will be able to see all photos, comment and read other posts in the Mom.life app
Open this post
in the Mom.life app
Open
Comments
— How do you have the energy in the morning 😂
— This was so easy! I just cut up 1 apple and 1 banana then sprinkled a bunch of flava on it 😂
— @luna_bear, lmao 😂 I can't I'm non functional
— @luna_bear, looks bomb.com
— 😦🤤🤤🤤 looks delicious!
—
— I was craving apple pie last night so I resorted to McDonald's lol.
— Not a bad choice 😂
— How did you cook the apples?
— Just simmered them on the stove top in a little almond milk until they were slightly soft.