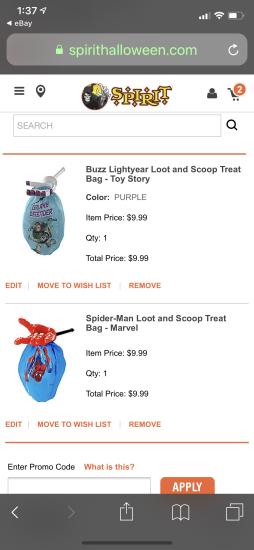 Has anyone seen this in spirit Halloween? I want to order them online but they charge for shipping. If they have them at the store then it can be cheaper.
Open in the app
You will be able to see all photos, comment and read other posts in the Mom.life app
Open this post
in the Mom.life app
Open
Comments
— Try Amazon
— I did find Spider-Man but not the buzz
— I got one last year in stores
— What was it? I seen them at the store but different once's not Spider-Man or buzz lightyear.
— @dragon_ball_mommy we had spiderman
— @kellyjc, oh really? Was it at spirit Halloween? Or another store?
— spirit I'm pretty certain
— I'll have to go to see if I can find them or else I'll have to order them. Good thing I still have time to go check at the store
— @dragon_ball_mommy ohhh yes plenty of time
— Shipping charges are a rip! Either get it order for pickup or just go.
— I'll probably go see they have it or ask if I can order it and pick it up there.
— Call or go in store. It might only be available online. Even if it doesn't state it. If it's not in stores this year it will be next year. Sometimes people order online and return in store too.
— Girl I ended up ordering it. I didn't want to order late minute. Good thing we Already have their costumes and finally soon their bags.
— @dragon_ball_mommy, I always get it done ahead. Can't risk not getting it 😆 lol
— @brownsugarluv, right lol 😂 that's what I was thinking too