A Diary of Loss: One Mom's Journey Through Pregnancy, Birth and Loss
Lindsay Olson isn't one to share the ups and downs of life on social media. She's a busy woman -- wife, mom to two young children, founder of a staffing firm and owner of the Llevame Cerca Carriers -- who likes to keep things positive and focus on the good in her life.
However, in March of this year she experienced the heartbreaking loss of her son who was delivered after five months of pregnancy. In honor of Infant and Pregnancy Loss Awareness month, Lindsay has generously decided to share her story, as originally told to her friends and family on Facebook, with mom.life. By telling her story of loss, pain, the pressure to move on and the things that helped her cope, Lindsay hopes to help other moms in her situation know that they are not alone.

The mom.life community has a group dedicated to Miscarriage and Child Loss within our app, which we invite you to join if you want to lean on other moms who have experienced loss. Please download the app and message @mom.life_USA to join the group.
The First Few Days: Unbearable Pain, Love and a Rainbow
March 24
I usually only share the positive moments of my life here on Facebook. This pregnancy and third child coming into our family was one of the big ones this year. Unfortunately it's with the heaviest heart and a fountain of tears that I feel compelled to share this news now. Our tiny angel baby was born on Tuesday morning around 4 am. At 5 months, he was just too tiny to be able to experience this life with our family that already loved him so much. He was so little, so beautiful. This has been the most painful process. I can't even find the words to express this loss. I'm having a very hard time letting it go and not searching for answers that I know I will never find. I'm not okay right now and don't feel like I ever will be again. I'll be hiding out with my family for the next few days, hoping that together we can start healing from this most unbearable loss. We appreciate all the support and love from friends and family close and far. xoxo
March 25
I'm overwhelmed with all the love and comforting messages from everyone. It's amazing knowing there are so many sympathetic hearts filled with love and compassion, embracing my soul and my family. For those of you who have so thoughtfully shared your heartbreaking losses, thank you - it helps to know we are not alone. I would not wish the loss of a child on anyone - none of my previous terrible experiences and personal hells in my life could have ever prepared me for this. I truly appreciate all of the kindness and comfort from each of you as I try to dig myself out of what seems like a never-ending tunnel of darkness and tears. Love to all. Thank you.
March 26
Julia just ran in to tell me to come out to look at the rainbow colors in the sky because she knows this means the baby came to check on us. I can't say this is how I imagined our first weekend staying in the country house we've been building for two and a half years, but we are here and the sunsets are amazing.
Art, Hugs and the Pressure to Move On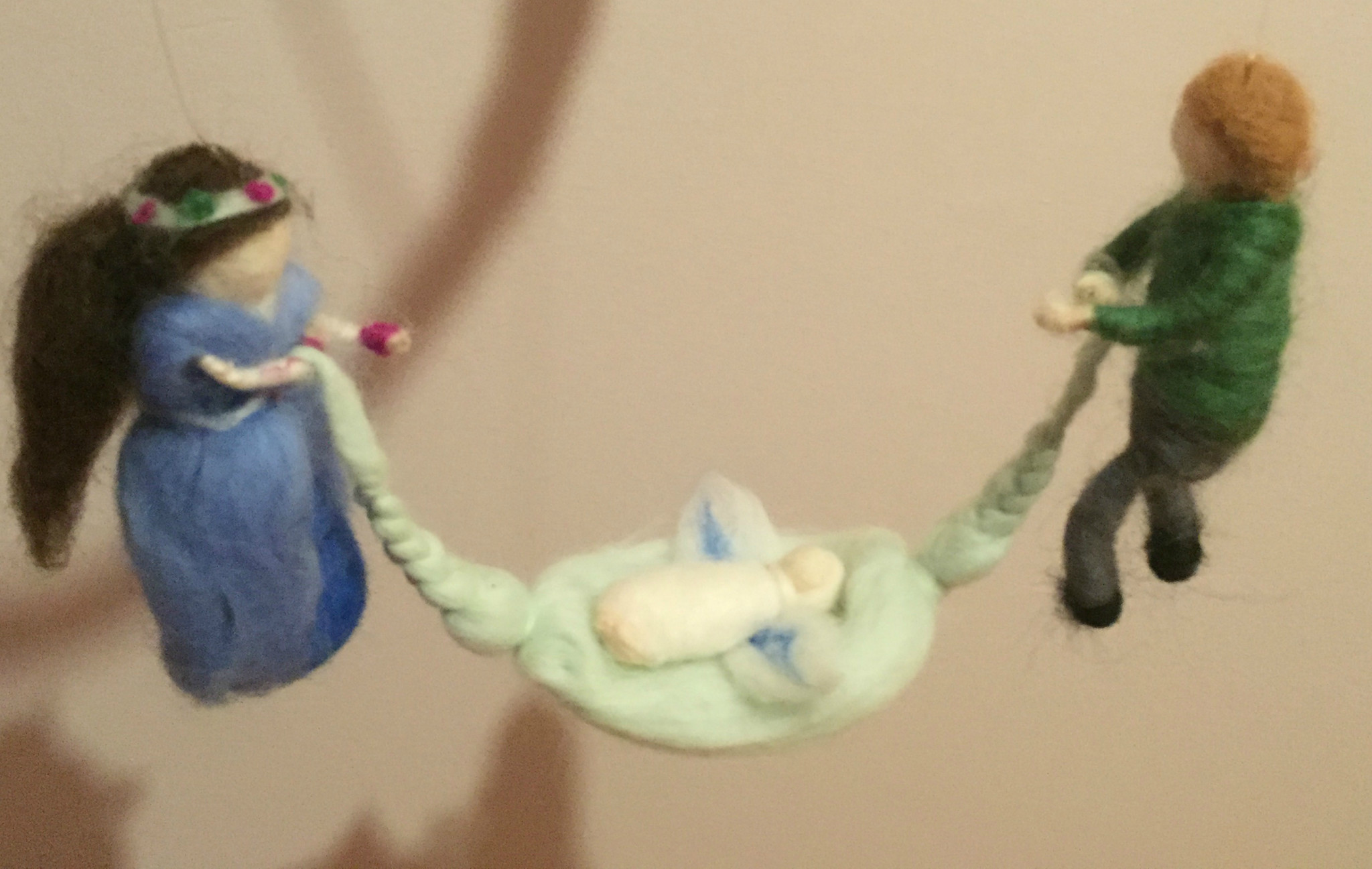 March 27
I have been with a desire to create something for days but it's been hard to really focus on much other than keeping it together. Today though I went upstairs and this needle felted mobile just happened.
April 2
Leo, every night on the way to bed, gives me a big hug right around my stomach where he is immediately reminded of the baby and then tells me so casually "the baby is never coming Mom because I think he wants to be alone". He is so raw, so direct, so 4-years old. Meanwhile, this terrible experience has shown me that Julia, just 6, has developed into such a compassionate and understanding person. She immediately stops what she is doing, anticipating what will happen next, covers me with her biggest embrace and looks at me with the most sympathetic eyes, while wiping my tears. She has a beautiful answer for everything. These kids are my saving grace.
April 5
How much cruelty can one take? As if the pain of an angel baby isn't enough to face and the pressure to "move on" isn't constantly hanging over you, you are shortly met head on with your hormones - your milk comes in for a child you touched, but you won't be able to feed, smell, or touch ever again. Once you survive the physical and emotional pain associated with that cruelty, people still continue to ask you how far along you are, not noticing your figure has dramatically changed, or the opposite - their complete uncomfortableness with you and your situation leaves them to ignore everything. And then to top it all off, you spend all morning deleting the ridiculous requests to review all those wraps and baby gear purchases you made the day before your loss. All those plans you were making while you were feeling like shit because the end was coming and you didn't realize it. This tunnel is abysmally dark.
April 9
Never thought in my lifetime that I would shopping for a necklace urn. I actually had no idea that they existed, but they do. And there are so, so many of them. Before this experience I would have probably thought a necklace urn was so strange, and I dare to say I may have even had some judgmental thought go through my head. But now, seeing this little box in my closet filled with what remains of our tiny little baby who came into the world eternally asleep puts me in tears. That box is nothing special, it's so cold and doesn't seem right. Then again, none of it does, except that necklace urn... it seems like the only place to keep a small part of you.
April 9
Needle felting feels pretty darn good now in my current emotional state. Stabbing the wool with a sharp needle for a couple hours gets some of this anger out and it's nice to channel all this sadness and my ever-changing emotional state into objects that recognize these feelings, but also help the healing. Gracias por la inspiración, Luz.
Struggling to Make Sense Of It All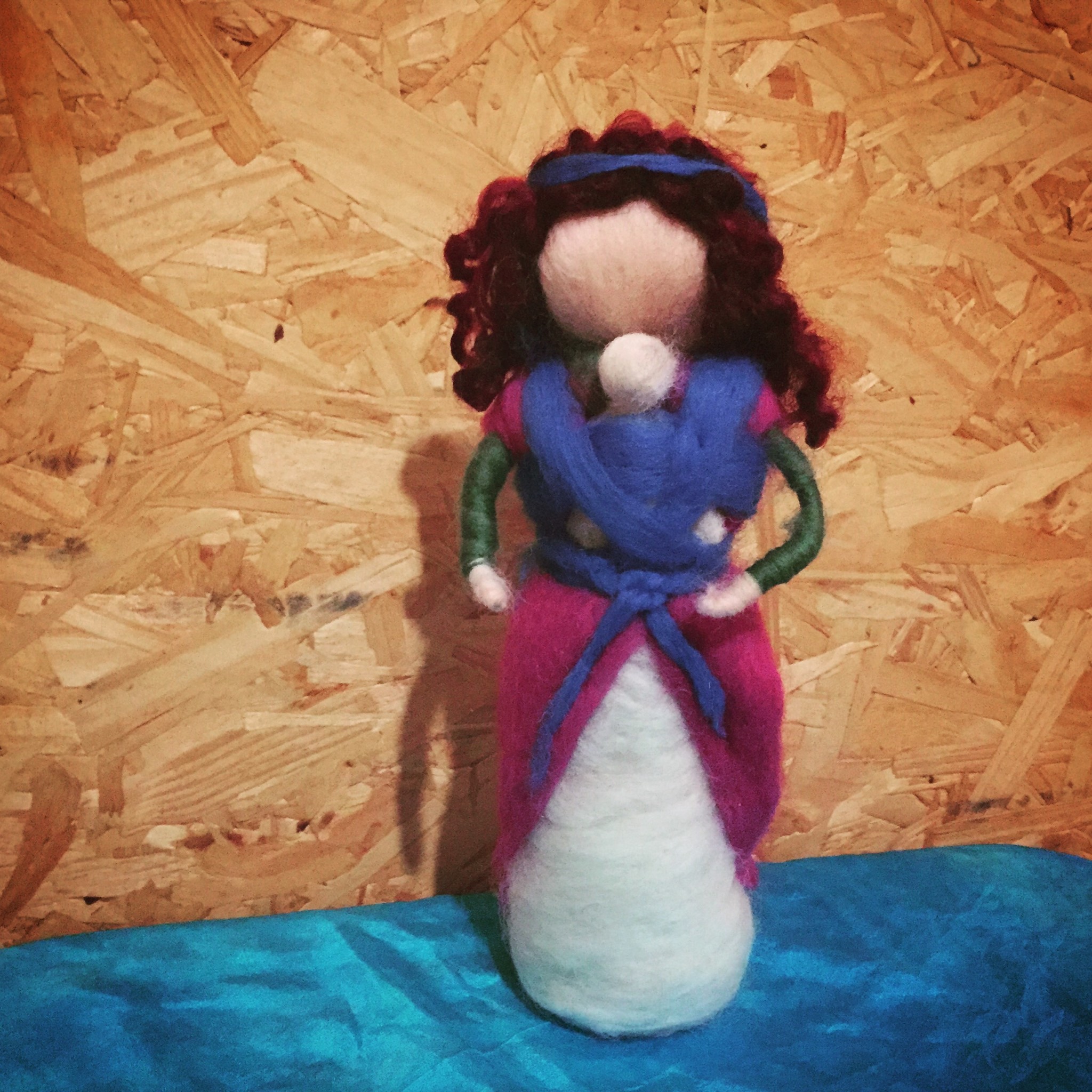 April 21
It's been exactly one month since I've wanted to burn everything that reminded me of babies. To be honest, I still do everyday, just a little less. Today Leo picked up a wrap I was saving for his angel brother that he found thrown in a box and he demanded I take him to pick up his sister on my back. He helped me get over yet one more hump in all the guilt and sadness. I'm constantly circling back and picking apart my yoga practice or that day I wasn't feeling 100% a few days before it happened and carried 20+ kilos of superhero in a sling. And so I have punished myself by not returning to yoga or being open to receiving the love and sweetness I can still sometimes get by wrapping him up. Today I knocked down one, and his face...oh, his sweet face made it all worth it.
May 10
Loss stings hard and everywhere - the looks of sadness for your loss, the lack of words to make it all better, the lingering touches and hugs that remind you of the darkness you deal with every moment, the emotions and visions of his sweet face that rush out while laying in Savasana at the end of a yoga practice that you are trying so hard to get back to and extinguish the guilt and blame. That %>]*€|£## overpriced baby lounger you so carefully selected that sits with your luggage, stares at you everytime you walk by, and can not be returned.
I can't express enough gratitude for all the support we've received in past month and a half since we lost our baby boy from family and close friends, and the so many others whom I have never met in person, but have reached out with healing words, compassion, information, and love.
Today I got this sweet and touching little book in the mail from such a friend. You don't have to "know" someone to understand what they are going though and send love and support. Thank you, MK and family. Thank you, everyone ❤️
May 24
It's been two months... two long and hard months. Two months I have been tempted to drown myself in a bottle of wine a night to just forget birthing a baby who came home in a tiny box. Two months of tears, disengagement, emptiness and guilt. Two months of hoping and searching for some kind of answer, but nothing appears. Two months of faking smiles and laughs when I really have a more overwhelming urge to punch something. Grieving makes two months feel like two decades - and by the look of the grey hair in my bangs, I've probably aged that much too.
But in all the darkness, I'm slowly beginning to feel more light. I did make it to yoga this morning, which is such an important part of my life and what I have avoided the most. I've managed to be in the same room, hold, and touch small babies without breaking down on them. I've managed to get out of bed every morning. That's progress…
June 10
It's a small, cold, unmemorable box that my baby's ashes sit in. If I had known, I would have bought gold, but nobody really expects it. I never did. Along with the majority of the wine bottle, down comes that box, tucked away in a corner of the top shelf in my closet, the box that haunts everyday of my existence. I have woken up every single morning for the past month thinking about that cremation necklace. Something to keep him close. Something hopefully to fill my heart, with what still must be defined. I didn't have the courage until tonight, and tonight, well, here I am with my necklace and an unmemorable box.
June 20
I painted this over the weekend. Very much inspired by an image I found online because my mind draws a blank while I am trying to figure this whole painting thing out. It's been three months. Some days it feels like three years. Some days I can feel every sensation of my body emptying as it did on that dreadful day all over again. But mostly in the late hours of the night I feel something like this.
Deep Pain Can't Be Ignored
June 24
The thing I'm understanding about the deep pain of loss is that I can't *#4&*%!$ ignore it, and it comes out in the strangest ways. I wish I could ignore it because that's what I usually do and it would make my life much less awkward. But this isn't that simple. It's this lingering feeling, ever present, ready to surface at any given moment. I'm totally unpredictable. Watching my kids get their feelings hurt by others children feels like a personal attack. Being next to a pregnant woman mindlessly caressing her belly makes me unjustifiably feel like she's been put there to rub it in my face. Pregnancy announcements on Facebook make me want to close my account for a moment. Yet this all seems so stupid because I actually have been able to deal with Llevame Cerca and the whole babywearing biz. It's like I've compartmentalized a part of my life which is closest to babies, the source of my pain, and made it immune. Meanwhile everything else suffers…
August 3
This is the week. The week we would meet our baby boy for the first time, after what I imagine would have been an intense, but joyful home birth. But I already met and said goodbye to the sweet baby boy who leaves a gaping, unmendable hole in my heart. Some days I feel everything, I relive every minute of the worst day of my entire life, tracing back the moment I found out what was happening to delivering him several hours later. I recall the terrible treatment I received at the hospital, being accused of a late-term abortion, when all I wanted was to not be there and have a healthy baby join our family. I daze off remembering the short time I held his tiny body in my arms, knowing he would never come home with us and meet his beautiful brother and sister, while listening to three other women give birth to their living babies. I live in guilt every day that I did or could have done something, without any kind of closure. Forget the fact that everyone else is way over it, and I'm still sitting back quietly struggling. I wonder every day what he would be like. This is the week I should have him in my arms. August will never be the same.
August 31
Today I posted a photo on the Llevame Cerca fan page of a mother wearing her rainbow baby in a rainbow wrap that I made for her. Actually, a friend of hers picked out the design and asked me to make it as a gift for the arrival of this friend's new baby. I've known her story for some time now and I've thought of this stranger often. The day the wrap was given to this mother, her friend sent me the photo of how happy she was with such a thoughtful gift, celebrating the life of her lost son and the life of her coming daughter. Little did I know the next day I would be delivering and losing our baby boy. Little did I know how much that rainbow wrap would resonate with me. Little did I know, the words I spoke that day about how moved I was that a friend dove deep into something that so many would prefer to ignore because of the uncomfortableness of it all, would mean so much to me the very next day. Today I look back at this all, with this beautiful photo of this mother carrying her precious daughter in her rainbow wrap, full of hope and happiness, and I see that none of this is a coincidence. So many people in the past few months have been put in my path for no other reason than to help me heal and try to find the light in all the darkness.
Oct 1
October is Infant and Pregnancy Loss Awareness month. I remember and feel the loss every single day, not just October. I feel it every single time I am asked about my children and future plans. I'm reminded by my awkwardness with every pregnant belly that crosses my path and by the silence and the pretending to just be normal that deteriorates my health... It's an inescapable memory that I wish wasn't just a memory.