Lindsay Olson isn't one to share the ups and downs of life on social media. She's a busy woman — wife, mom to two young children, founder of a staffing firm and owner of the Llevame Cerca Carriers — who likes to keep things positive and focus on the good in her life.
However, in March of this year she experienced the heartbreaking loss of her son who was delivered after five months of pregnancy. In honor of Infant and Pregnancy Loss Awareness month, Lindsay has generously decided to share her story, as originally told to her friends and family on Facebook, with mom.life. By telling her story of loss, pain, the pressure to move on and the things that helped her cope, Lindsay hopes to help other moms in her situation know that they are not alone.
The mom.life community has a group dedicated to Miscarriage and Child Loss within our app, which we invite you to join if you want to lean on other moms who have experienced loss. Please download the app and message @mom.life_USA to join the group.
The First Few Days: Unbearable Pain, Love and a Rainbow
March 24
I usually only share the positive moments of my life here on Facebook. This pregnancy and third child coming into our family was one of the big ones this year. Unfortunately it's with the heaviest heart and a fountain of tears that I feel compelled to share this news now. Our tiny angel baby was born on Tuesday morning around 4 am. At 5 months, he was just too tiny to be able to experience this life with our family that already loved him so much. He was so little, so beautiful. This has been the most painful process. I can't even find the words to express this loss. I'm having a very hard time letting it go and not searching for answers that I know I will never find. I'm not okay right now and don't feel like I ever will be again. I'll be hiding out with my family for the next few days, hoping that together we can start healing from this most unbearable loss. We appreciate all the support and love from friends and family close and far. xoxo
March 25
I'm overwhelmed with all the love and comforting messages from everyone. It's amazing knowing there are so many sympathetic hearts filled with love and compassion, embracing my soul and my family. For those of you who have so thoughtfully shared your heartbreaking losses, thank you – it helps to know we are not alone. I would not wish the loss of a child on anyone – none of my previous terrible experiences and personal hells in my life could have ever prepared me for this. I truly appreciate all of the kindness and comfort from each of you as I try to dig myself out of what seems like a never-ending tunnel of darkness and tears. Love to all. Thank you.
March 26
Julia just ran in to tell me to come out to look at the rainbow colors in the sky because she knows this means the baby came to check on us. I can't say this is how I imagined our first weekend staying in the country house we've been building for two and a half years, but we are here and the sunsets are amazing.
Art, Hugs and the Pressure to Move On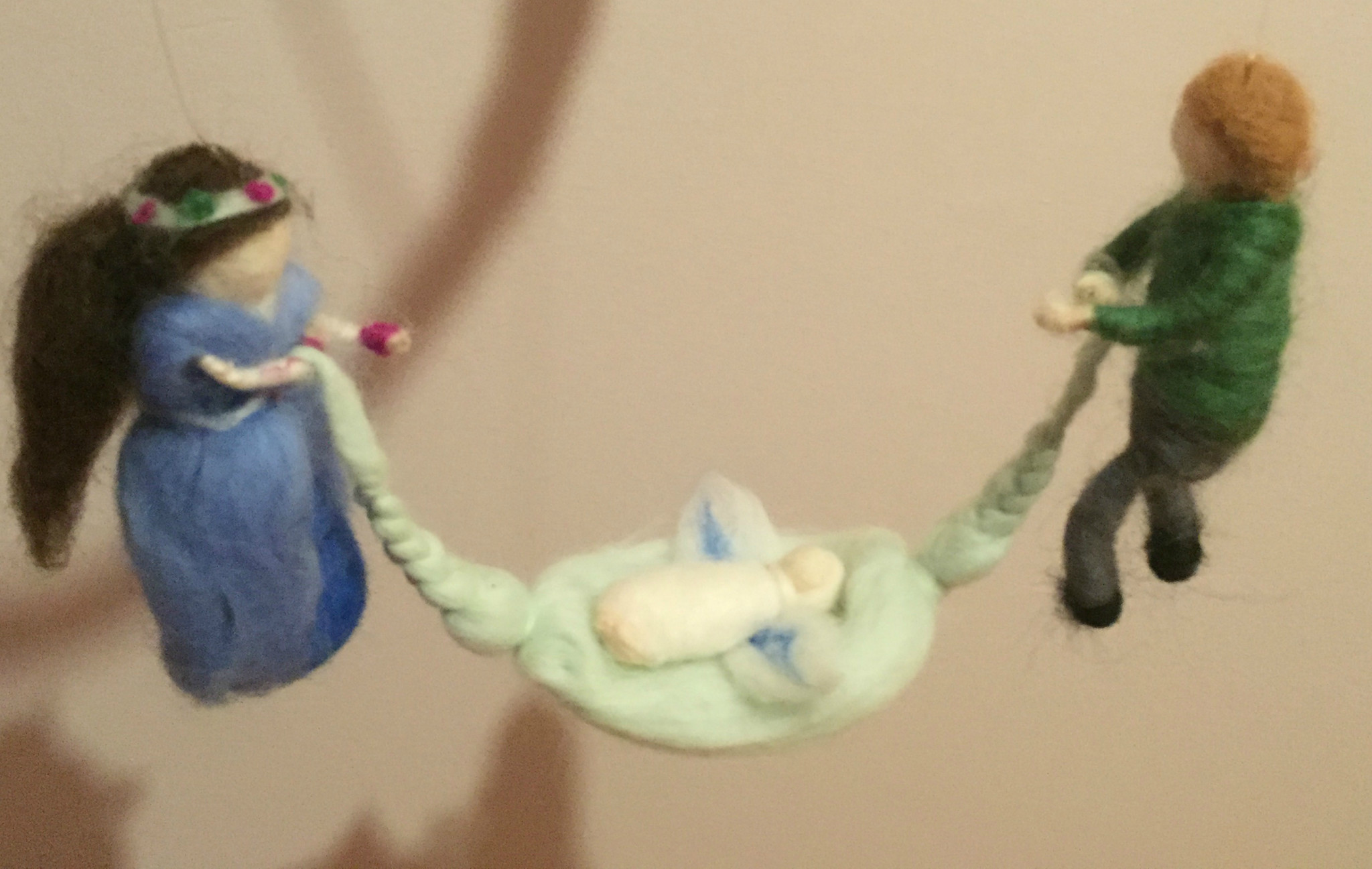 March 27
I have been with a desire to create something for days but it's been hard to really focus on much other than keeping it together. Today though I went upstairs and this needle felted mobile just happened.
April 2
Leo, every night on the way to bed, gives me a big hug right around my stomach where he is immediately reminded of the baby and then tells me so casually "the baby is never coming Mom because I think he wants to be alone". He is so raw, so direct, so 4-years old. Meanwhile, this terrible experience has shown me that Julia, just 6, has developed into such a compassionate and understanding person. She immediately stops what she is doing, anticipating what will happen next, covers me with her biggest embrace and looks at me with the most sympathetic eyes, while wiping my tears. She has a beautiful answer for everything. These kids are my saving grace.
April 5
How much cruelty can one take? As if the pain of an angel baby isn't enough to face and the pressure to "move on" isn't constantly hanging over you, you are shortly met head on with your hormones – your milk comes in for a child you touched, but you won't be able to feed, smell, or touch ever again. Once you survive the physical and emotional pain associated with that cruelty, people still continue to ask you how far along you are, not noticing your figure has dramatically changed, or the opposite – their complete uncomfortableness with you and your situation leaves them to ignore everything. And then to top it all off, you spend all morning deleting the ridiculous requests to review all those wraps and baby gear purchases you made the day before your loss. All those plans you were making while you were feeling like shit because the end was coming and you didn't realize it. This tunnel is abysmally dark.
April 9
Never thought in my lifetime that I would shopping for a necklace urn. I actually had no idea that they existed, but they do. And there are so, so many of them. Before this experience I would have probably thought a necklace urn was so strange, and I dare to say I may have even had some judgmental thought go through my head. But now, seeing this little box in my closet filled with what remains of our tiny little baby who came into the world eternally asleep puts me in tears. That box is nothing special, it's so cold and doesn't seem right. Then again, none of it does, except that necklace urn… it seems like the only place to keep a small part of you.
April 9
Needle felting feels pretty darn good now in my current emotional state. Stabbing the wool with a sharp needle for a couple hours gets some of this anger out and it's nice to channel all this sadness and my ever-changing emotional state into objects that recognize these feelings, but also help the healing. Gracias por la inspiración, Luz.
Struggling to Make Sense Of It All