One of the joys of watching your baby grow is seeing them enjoy key milestones like their first babble, laugh and bite of food. We moms eagerly await the first time our children hold their head up without support, roll over, sit up on their own, crawl and walk – it's all so amazing to watch. What's even more amazing is this all generally happens within the first year of life.
But what if your child isn't hitting those key milestones at 3 months, then 6 months, or 8 months, a year and beyond that?
As a mother to twins born at 28 weeks, I watched two children develop on very different schedules. One developed pretty typically, the other, many months later than the norm. She didn't get her 'sea legs' until she blew out her candles on her second birthday. Throughout that period of time, we kept being told she would 'catch up', because 'most preemies do'.
Well, one preemie caught up and the other didn't. In fact, we're still working on it at age seven for our one girl. And, you know what, that's ok. She's an aaahmazing kid. We've learned a lot along the way about her, about us and about what it means to have a child with special needs. While we don't wish struggle on her, or any other child for that matter, we're really glad she is who she is and that we've had the chance to learn what we can from having her in our life.
7 Things You Learn When You Have a Special Needs Child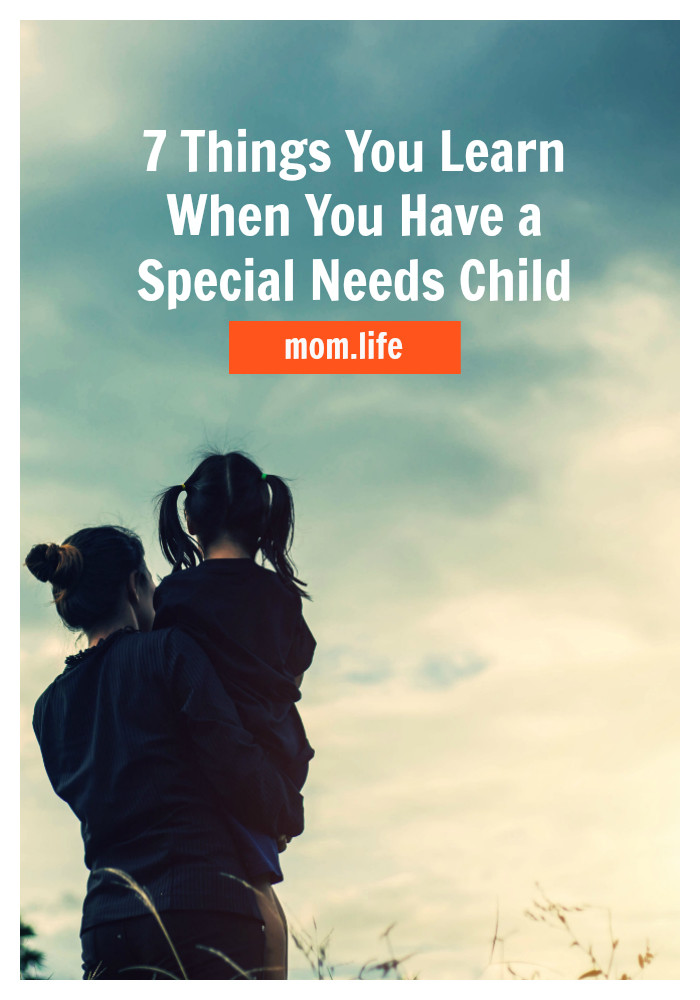 1. It's a journey, not a sprint to the end.
When you have children who aren't hitting milestones, you don't get to the finish line very quickly and in some cases, you don't get there at all. There is always a next step. That's probably the most difficult part as a parent, you want to just fix it all up for them and you can't. All you can do is advocate for them and show up with them to each and every appointment. The best thing you can do is be by their side to ensure their needs are being met so they have the best chance possible to become who they are meant to be.
2. It's not your fault.
It is simply the nature of how their life unfolded. And, you are no less of a parent because of their delay, or disability. There is so much pressure to have kids that excel at everything or to have the child who is 'perfect' in a way that society depicts.
Well, quite frankly, our kid with a disability, is perfection in her own right. If you've ever met her and spent time with her, you would get what we mean. Her spirit says it all. And, I can say the same about other kids I know (and love) who have delays or disabilities – they all have this inner light and spirit about them that makes them pure perfection.
3. You still feel like you should be able to fix it.
As I watched other kids, the same age as my children develop around us, I always questioned what I was doing wrong, or could have done better. But, the thing is, I have had some type of Early Intervention therapist in my home up to three times per a week since my twins were babies, and currently we're going to physical therapists and occupational therapists outside of the home – sometimes just as often. In addition to that, we ensure they are both receiving services in school, so I (and likely, you) are doing enough – yet, those internal monologues continue. This is the nature of parenting, we are always striving to do better and to be better. If you have the switch to turn this off, please tell me.
4. Therapists and school staff become good friends.
The school staff and therapists will share in all of the ebbs and flows of your child's success and setbacks, right along side you. The years will go by and you' will enjoy the memories of years prior and how much your child has grown and how far they have come together.
Because they will have come far.
They will have grown, and they will have made great strides.
Believe that.
5. Other parents with typically developing children will be insensitive.
They may not mean it, but they will be. I don't have the sure fire answer for dealing with this, but I've been on the receiving end, so I feel like I should try to prepare you. These parents will brag about their child hitting milestones to you (because everyone is excited when their child hits those milestones, right? As they should be.) and they will do this without thinking about how that might make you feel as you stare at your much older child still struggling with that same milestone. These will be friends, some will be good friends and it's crummy.
Just know that you're not alone in feeling crummy when it happens. You'll want to be happy for them, but it will be hard, and that's normal.
6. Your child is tougher than you think.
In my case, my girl with the most challenges is the one with the most tenacity, spunk and humor. She's the first one to bounce back up when she falls to say, "I'm OK!" and keep on running. Her resiliency comes from years of having to work a lot harder to get where she is today at age seven, and I think that's one of the silver linings of this whole journey we're on with her.
7. Being an advocate becomes second nature.
You will not feel uncomfortable speaking to doctors or specialists, you'll have all the lingo down and hesitating to ask a question will not be a thing for you. Research will be part of your regular routine so you can ensure you're getting the best you can for your child. So, let's just add doing this for yourself in to your routine as well, M'kay? We all know mothers in general sacrifice their own health for their kids, let alone a mom with a child who has special needs.
Being the parent of a special needs child takes patience, a willingness to ask for help and the knowledge that you are enough. It's a journey best spent with friends and if you haven't found your village yet who get this special needs journey, Download mom.life, it's an app for the modern mom where moms are chatting about all things motherhood. Including special needs kids.
{Read More: I Knew I Would Give Birth To Preemies}