You've made it home with your baby all cuddled up in your arms, and you're physically and mentally exhausted – it is then that you realize you forgot to buy a nursing pillow or didn't even think of buying a humidifier! Not to worry, we'll save you a midnight run for those things with the help of moms using our mom.life app. Below is their list of all the products they absolutely could not live without in the first year.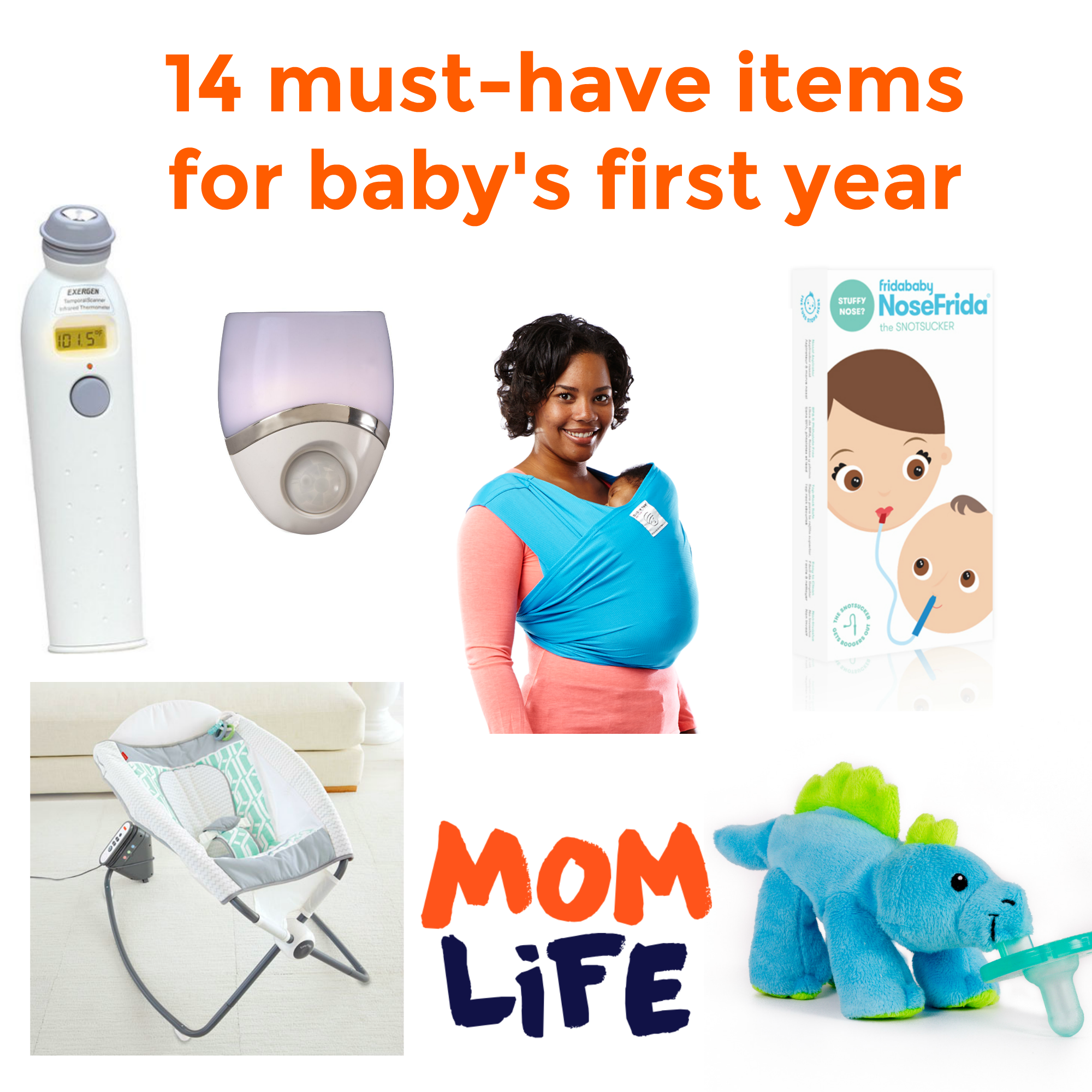 1. Night Light
Why: Avoid bumping into things late at night on your many trips to baby's room.
What moms are saying:
"…one thing that not many moms think about is a night light. The hassle of getting up every couple of hours during the night to give my baby his pacifier was an interesting challenge without being able to see. So we bought a special motion activated nightlight that when you walk in the room it comes on. It is perfect for not waking baby up too much and we don't have to do a thing but walk in."
2. Baby Carrier
Why: It's a way to carry baby close, but your hands are free as you go about your day together.
What moms are saying:
"My ring sling!!! They are especially helpful if your baby is colicky. I love that I can accomplish my daily to-dos without having to confine my baby to a swing or bassinet. I used it until my first baby was 1 and use it daily with my new baby!"
"Baby carrier! Especially if you're a mom of more than one child. I have 4, and this baby carrier is my biggest help!"
3. Thermometer
Why: Baby's are bound to get sick, so this is an important piece of your medical arsenal from day one to monitor their temperature.
What moms are saying:
"I was very lucky to have a thermometer that I could easily swipe across the forehead! It makes it so much easier to check our sons temp instead of fighting him for it."
"A temporal thermometer…I wish I would've had both with my first child. Lesson learned."
4. Nasal aspirator
Why: Removing mucous build-up from baby's nose (or that random popcorn kernel from your toddler's nose) is sometimes necessary – these nasal aspirators will be a lifesaver.
What moms are saying:
"My Nose Frida — it really isn't as gross as you would think."
"Besides the necessities like diapers and wipes, etc., the nasal bulb was an absolute MUST for me. That thing worked like magic."
"A battery operated nasal aspirator."
5. A snap n' go stroller
Why: The stroller and infant seat combo allows you the ability to move from car to stroller without taking baby out of their seat, which is key when they've fallen asleep right as you arrive at your destination.
What moms are saying:
"This is a lifesaver in the first year, you snap baby into the car, and go. Then, you simply unfasten them from the car (while still in their seat) and snap them into their stroller without removing them from their buckled position once you arrive at your destination. It's a must."
6. A WabbaNub
Why: This pacifier pal is one that moms are swearing by because it helps keep that binky in baby's mouth so they are soothed and you are sane.
What moms are saying:
"WabbaNub and our bottle warmer! Life savers!"
"WubbaNub and the rock and sleep."
"My babe's WubbaNub and the MamaRoo! Life savers."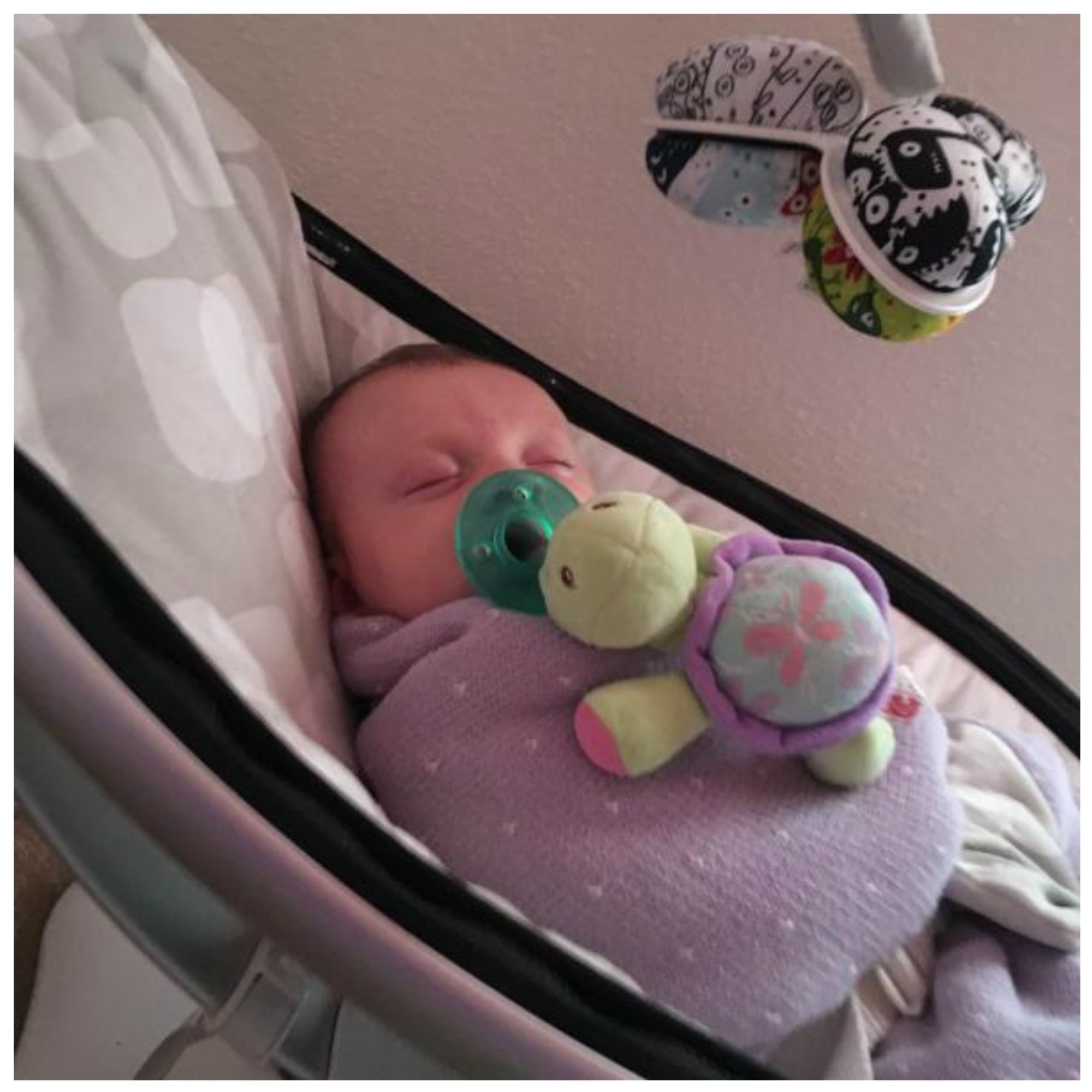 Image of adorable baby with her WubbaNub, nestled in her MamaRoo via @abbydi – meet more moms like her, share your ideas and photos in our social media mom.life app!
7. A nursing pillow
Why: It alleviates the need to hold baby up through your nursing session keeping your arms from tiring out and baby more comfortable.
What moms are saying:
"I tried the Boppy nursing pillow, but fell in love with the "my breast friend" nursing pillow. It works so much better for me and my little girl."

8. A humidifier
Why: This is a necessary tool to break up congestion and ease breathing when baby is sick.
What moms are saying:
"A humidifier. My daughter had what doctors call "daycare junk" her whole first year and the only thing that helped was baby vapor rub and a humidifier."
9. A swing or bouncer
Why: A safe place for baby to sit and be soothed is essential when you have a fussy baby or multiple kids underfoot.
What moms are saying:
"Rock 'n play! My baby has acid reflux and cannot lay flat, so the rock n play was a huge life saver. Also her bouncer; she hates everything else."
"My Rock 'n Play! We use this every day and have since he was born. Its vibration has always helped with gas….It is also super easy to carry around. I take it everywhere with me because it just folds up and fits right in the trunk."
"A good swing! My little guy got spoiled in NICU by his favorite nurse and he had to be rocked constantly. Bought a swing and he loved it. I wouldn't have been able to get anything done if not for it."
10. A breast pump
Why: The ability to pump milk into bottles will allow you more flexibility with feeding time. You can be gone for a longer period of time and Dad can join in on the feeding fun.
What moms are saying:
"I could go without so much except my pump. I used a manual pump and I liked that a lot. I want able to breastfeed so I got to pump for a little while. I recommend even breastfeeding moms to use a pump too."

11. A Baby Brezza
Why: A formula machine used to streamline the formula bottle making process is a win in our book. The company also offers a baby food maker and sterilizing machine.
What moms are saying:
"Baby Brezza. 100% no doubt. It was the best product by far!"
12. A fan and/or heater
Why: Having a dual purpose solution that works for regulating baby's temperature and drowning out noises in the home will be a sanity saver in the long run and allow baby (and you!) better sleep.
What moms are saying:
"A fan/heater. It's perfect for nap time. The white noise keeps them asleep for longer."
13. A SwaddleMe blanket
Why: Baby's love the secure feeling of a swaddle and this blanket swaddles baby safely and securely everytime, ensuring they get better sleep.
What moms are saying:
"The first couple of months, SwaddleMe blankets. They were the only things that would keep him asleep."
14. A Pack 'n Play
Why: If you plan to travel in the first few years, you'll need a portable sleeping, playing and changing space. Pack 'n Plays are also great solution for baby sleep and play for around the home if you have multi-levels.
What moms are saying:
"The pack n play was essential for me with all my kids. It gives your child a safe place to sleep and play when away from home."
What are your must-have baby items? Download the mom.life app, share your thoughts and discover new must-have products while making new friends!