Morning sickness is a common symptom of pregnancy.
Though not always in the morning, many pregnant women suffer from repeated bouts of nausea throughout their pregnancies.
The why is not super important –it's like swollen ankles and constipation, it just happens and it will go away when the baby arrives.
But sometimes it's more than that.
Some women experience an intense and often debilitating level of nausea and vomiting known as hyperemesis gravidarum.
The symptoms include:
Food aversions
Weight loss of 5% or more of pre-pregnancy weight
Decrease in urination
Dehydration
Headaches
Confusion
Fainting
Jaundice
Extreme fatigue
Low blood pressure
Rapid heart rate
Loss of skin elasticity
Secondary anxiety/depression
It is not "just morning sickness." It is severe nausea and vomiting that is, at times nearly unbearable and seemingly insurmountable to those suffering it. Many women require medical attention and even hospitalization.
And, for those suffering with it, it is exhausting.
Sort of like hearing these things.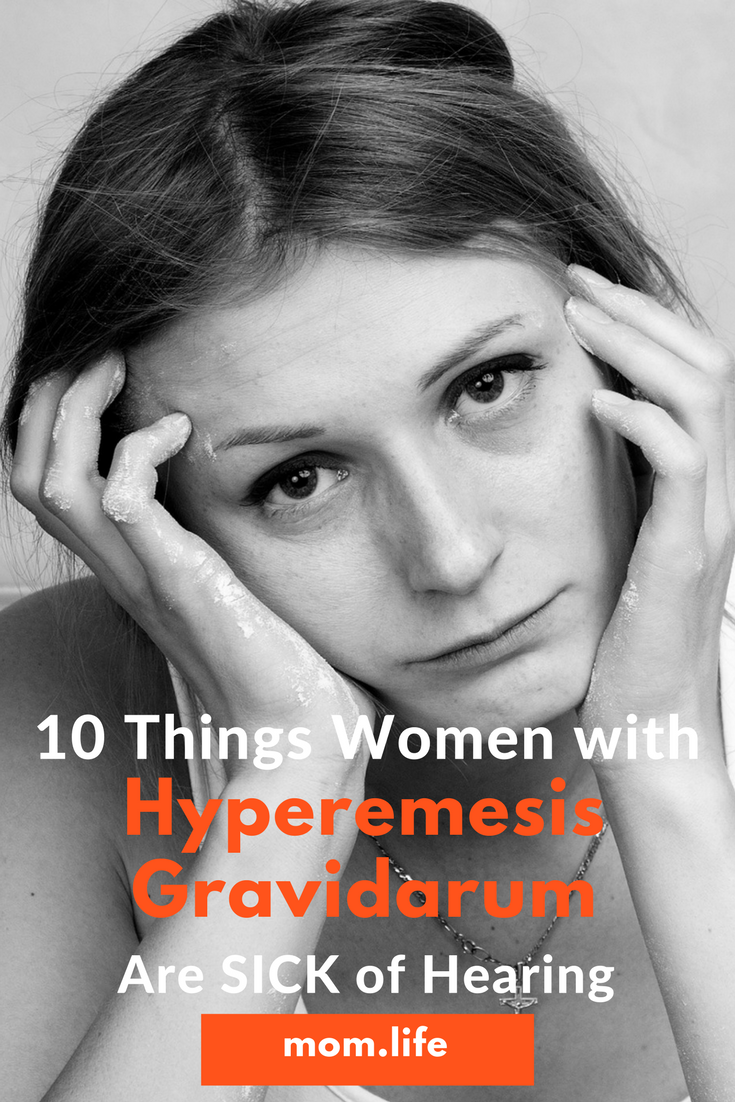 10 Things Women with Hyperemesis Gravidarum Are Sick of Hearing
"I had morning sickness too."
What you had was morning sickness. What I have is a medical condition.
"It will go away in the second trimester."
Eh, if you say so.
"Did you try crackers?"
Yes, I barfed them up with everything else I've eaten since Saturday.
"Maybe you just need to change your diet."
Welllll, since I can't eat my diet consists primarily of air.
"You should talk to your doctor."
I talk to my doctor more than I talk to my husband at this point.
"It's just morning sickness."
Say just one more time.
"I know how you feel."
Oh! You were hospitalized because you couldn't stop barfing for months too? I'm sorry to hear that, because it is THE WORST.
"What about like, Ginger Ale?"
What about it?
"You need to gain some weight!"
And you need to leave me alone so I can barf.
"But it will all be worth it when you're holding your baby!"
Sigh, I know that already. Doesn't make the fact that I can't move without barfing any easier.
Now, want to actually help?
Try this one: I'm sorry you're going through this, what can I do to help?
Read More: You're not alone! What to do when pregnancy just sucks.
Looking for a supportive environment of moms who will hold you down when the going gets tough? The mom.life app community is the perfect place to find it!